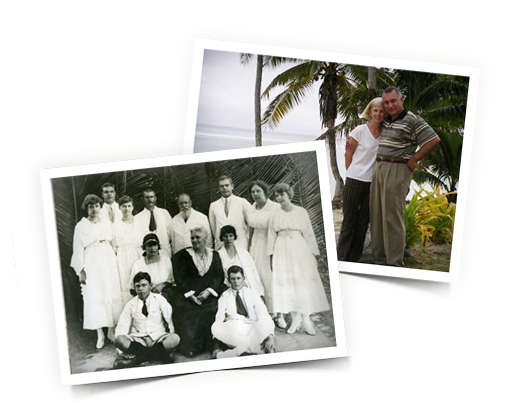 Left: Brahnes of "Niumate" plantation, Liahona,
Tongatapu, Kingdom of Tonga; 1921
Right: John & Judith Sexton
Spirit distilling for home consumption has been legal in New Zealand since 1996; one of only a handful of countries world-wide.
This has created a sub-culture of distilling "nerds" including John Sexton and his son, Anthony, with the competency to make a world class Gin.
VAIONE has received many awards since 2006 including:
Gold and "Best in Class" GIN 2008
Master Distiller. "Stillmaster" Awards 2008
John Sexton is a New Zealander, of Niuean descent, born and raised in Auckland, New Zealand.
His heritage encompasses the South Pacific Islands of the Independent State of Samoa, the Kingdom of Tonga, the Black Pearl Island of Manihiki in the Cook Islands, Niue the smallest Independent Nation in the World 19000'' 46.76''S 169055' 25.16''W, and New Zealand.
The City of Auckland in New Zealand has the largest melting pot Pacific Island community in the world.
John is married to Judith, and they have two adult sons. Their son Anthony has been involved with this project from the beginning.
John's father's family, the Brahnes (Brainehs) of "Niumate" (Newmartee) plantation, Liahona, Tongatapu, Kingdom of Tonga; 1921
Grand-Mother Ana Luise, 3rd from left Great Grandfather, Heinrich (Hans) Bruno Brahne, 5th from left. He jumped ship in the South Pacific in the mid nineteenth century (1800's). Established a large copra plantation in Liahona, Nukualofa, Kingdom of Tonga.
Three of the sons, Ernst Otto, Heinrich Ludwig and Hans Bruno jnr, were interned on Somes Island, Wellington Harbour, during the Second World War.
Vaione is now produced by Vaimamali Limited a company owned by NPNC Group from Niue with Anthony continuing the family tradition of distilling passed down from his father John.